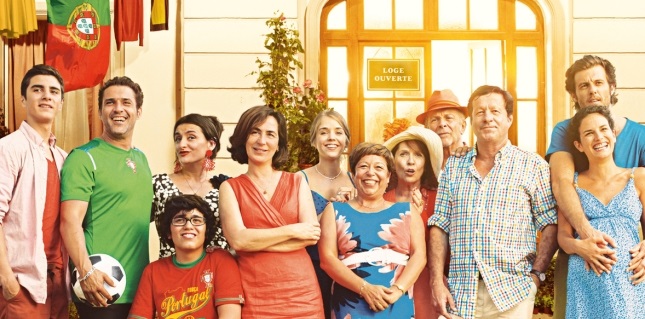 Our first Film Night of 2014 will show "The Gilded Cage - A Gaiola Dourada", a film by director Ruben Alves, that has been a success with audiences around Europe winning the Audience Award at the European Film Awards last year.

Join us for a night that promises a lot of laughs!

Synopsis: Maria (Rita Blanco) and José (Joaquim de Almeida) emigrated from Portugal 30 years ago. Ever since, they have lived in the modest ground floor lodgings of a chic apartment building in Paris, raising their now adult daughter and teenage son. They are universally liked around the community: Maria is the buildings concierge, always available even on her day off maintaining the high standards the inhabitants depend on. José, a building site foreman, is equally as indispensable to his boss (though both men are unaware that their son and daughter are secretly engaged). When José learns he has inherited the family winery and the couples dream of returning to Portugal is now possible, they are elated but struggle with how to tell those around them. However, word of the big news spreads anyway, and soon their family, neighbours, friends and employers are scrambling behind the scenes to find ways to prevent them from leaving. Richly informed by his own upbringing as the son of Portuguese immigrants in Paris, Alves warm-hearted, cross-cultural comedy features a terrific ensemble cast, spot-on comic timing and a thoroughly appealing central couple, whose dilemmas are portrayed with great tenderness and affection. Enthusiastically embraced by audiences upon release in April 2013, THE GILDED CAGE became the sleeper box office hit of the French spring, achieving over 1.2 million admissions in less than five weeks.

IMDB: 7.5/10

http://www.imdb.com/title/

tt2261749/
Trailer:

http://www.youtube.com/

watch?v=LKHw9PsAceI

When: Tuesday, 4th of February
What time: 7.30 pm
Where: Emmanuel College, Queen's Building Lecture (http://goo.gl/maps/XOAyr)
Prices: Free

Notes 1 : All foreign language films showed by the CUPortSS are subtitled in English.
Notes 2: Someone from the Society's committee will be at the entrance of the College from 7.15 pm until 7. 30 pm and the Porter will tell you where the room is if you're late or can't find anyone.